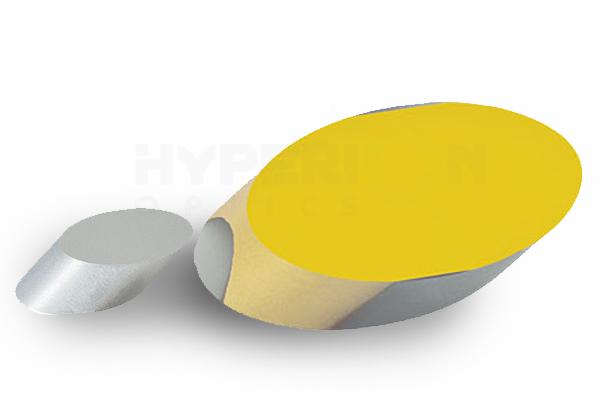 Elliptical mirror is still a flat mirror, but the shape is cut into an oval, and the outer circle and the mirror into a 45 ° angle. When the elliptical mirror is mounted in the optical path by 45 [deg.], The optical aperture of the lens is just circular.
Elliptical mirrors are also divided into metal coated mirrors and dielectric coated mirrors. The wide-band dielectric film reflector has a high reflectivity, and the metal film reflector has a wide reflection band.
Elliptical mirrors are typically used at 45° where a circular cross section of a given size is asked for. Our stock range of elliptical mirrors are machined from standard sheets of enhanced aluminium giving 94% reflectivity for visible applications. Generally elliptical mirrors are used as secondary mirrors in Newton telescopes or mounting in a tube where maximum aperture is required such as in perescopes.
Our stock mirrors have a guarenteed flatness of 1λ over 25mm. Where greater precision is required we offer elliptical mirrors with flatness better than λ/10 as a custom option. We also stock a range of standard front surface mirrors sheets for use in UV/ NIR and IR applications these can be cut and edged into elliptical mirrors at short notice.
For more information on our stock elliptical mirrors, to place an order or to find out more about our custom capabilities please contact our technical sales team.
| | |
| --- | --- |
| Material: | |
| Diameter (minor-axis): | +0 / -0.25 mm |
| Thickness: | ±0.15 |
| Surface quality: | |
| Flatness: | 1λ over 25mm dia. test area |
| Parallelism: | <3 arcmin |
Coating:
Enhanced aluminium/ visible use (MV1)
Ali/SiO₂ R.avg>94%@450-650nm, AOI=0°-45°