As a leading optics supplier, we understand that we are only as good as what we can measure. Since its inception, Hyperion Optics has continuously invested in measurement equipment to strengthen its metrology capabilities. Throughout the years, from component-level fabrication to complex lens assemblies, Hyperion Optics employs quantitative measuring devices along every step of the production to strictly monitor and safeguard product quality and performance.
Thanks to our QA engineering team and our metrology capabilities, we are proud to stand as one of the optics suppliers with the lowest recall rate in the industry,
Our metrology includes:
Zygo interferometer, Mitutoyo profiler, Zeiss CMM coordinate measuring station, TriOptics MTF station, TriOptics centering station, and more to come.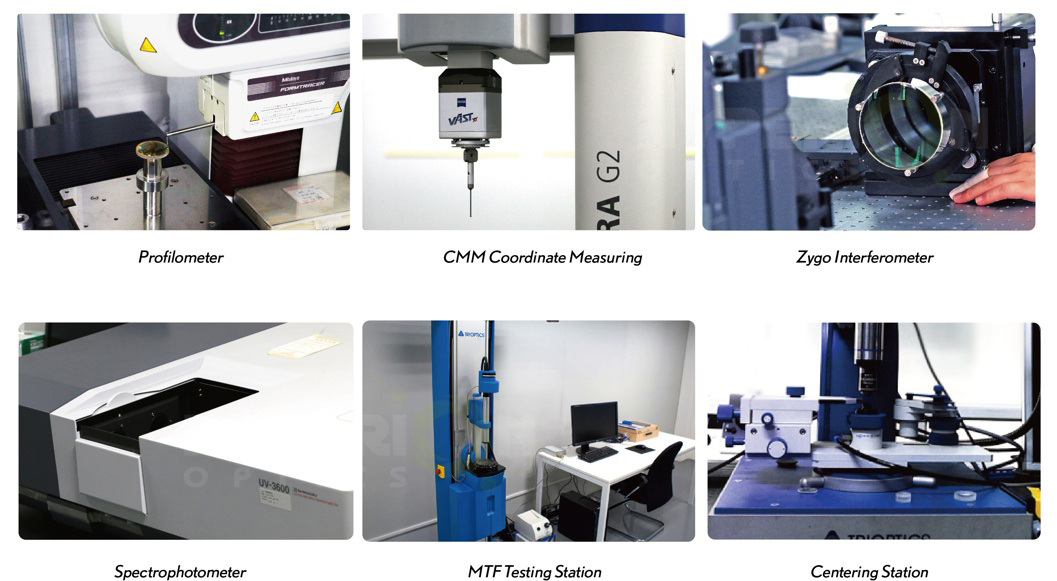 In fall 2018, we have added the latest ZYGO Verifire Interferometry System into our metrology, offering our clients an enhanced accuracy when it comes to optical surface measurements. Coupled with MTF testing station, Hyperion can now test and measure wavefront errors of lens assemblies with unprecedented reliability and accuracy.
As a standard practice, we provide full reports to customer along with product shipment. Regardless of the ordered quantity, it is Hyperion's guarantee to offer 100% inspection with thorough data backup. All inspection tools such as dial gauge, vernier calipers, and micrometer are all calibrated in accordance with ISO:9001 and Chinese GB standard.

At Hyperion Optics, we provide complete inspection data and Certificate of Compliance (COC) to ensure every single spec on the print is 100% tested, offering our customers a worry-free procurement experience. Our documentation includes all critical parameters; Hyperion's packaging and labeling provides safe and accurate traceability for each batch shipment.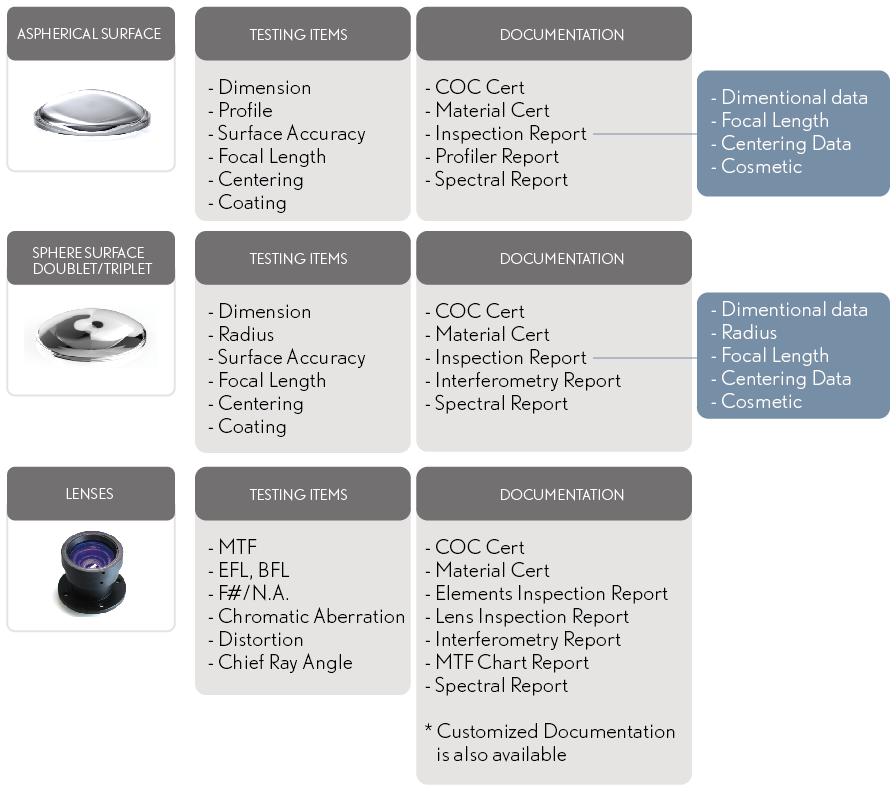 Hyperion's QA engineering team goes above and beyond to proactively calculate every lens focal length (even when it is not called out on the print!) to verify the product before shipment during the final QA process. Each lens' focal length will be recorded on the inspection report.

Flow chart below is a great example of our standard spherical lens production procedure, and illustrates the processes we take to monitor and control the products' quality.

Hyperion Optics deals with high precision products every day. With the assistance of our metrology capabilities, we are confident to provide high quality, reliable products to a wide range of applications worldwide. At Hyperion, we are committed to meeting and exceeding ambitious expectations through challenging projects that can push our fabrication techniques and testing competence to the next level.