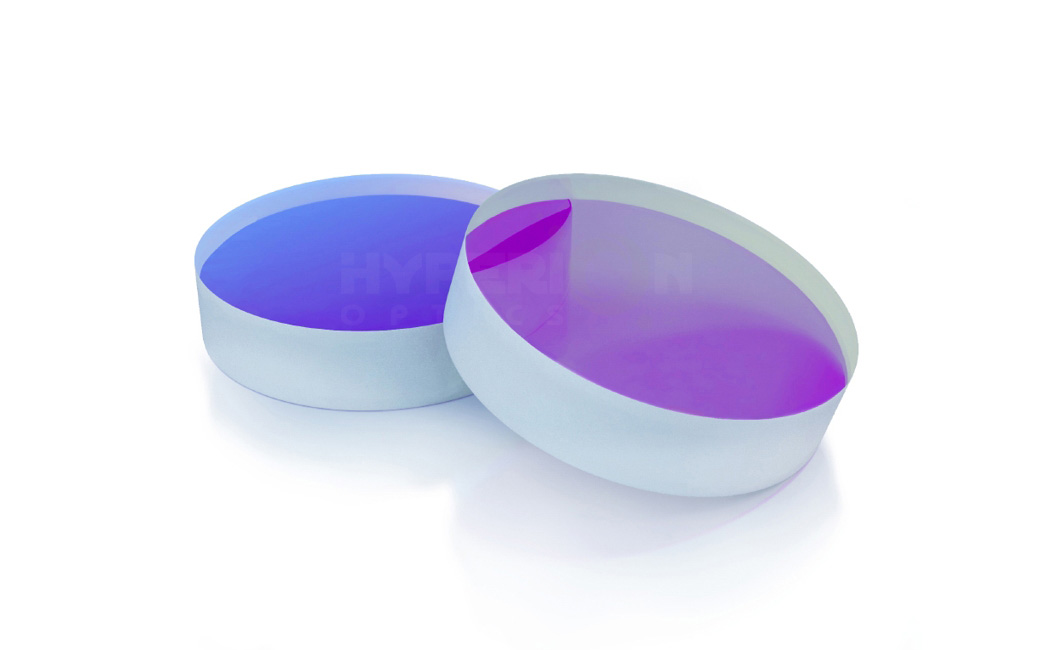 Reflective film from the coating material can generally be divided into two categories; one is the reflective metal film, one is all dielectric reflective film.
Media reflection film using the principle of multi-beam interference, which, contrary to the media anti-reflective film, can significantly improve the light in the air glass interface reflectivity. By alternately plating high and low refractive index multilayer films on the surface of the lens, the synthetic amplitude of the reflected light can be increased, and the reflectivity of the reflective film can be more than 99.9% of specially optimized design. In contrast, the reflectivity of the reflective metal film is only 97%.
At the same time, the dielectric film in the air stability and wear resistance is better than the metal film.
Plane mirrors also known as front surface mirrors, or first surface mirrors are used in beam steering or reflecting applications.
We stock four grades of plane front surface mirrors with a range of up to six coatings to meet applications in the UV, Visible, NIR and FIR applications.
Precision λ/10 front surface mirrors: They are manufactured from borosilicate material. Using LEGB borosilicate or equivalent ensures the mirror has low coefficient thermal expansion properties. These mirrors are used in high demanding beam steering and reflection applications such as imaging and astronomy. We stock precision λ/10 front surface mirrors coated for visible wavelength with aluminum/SiO₂ and the high reflective dielectric covered 99% mirror coating for high energy laser applications.
Precision λ/4 front surface optical mirrors: Ours is not as expensive as the λ/10 versions. Used in many scientific instruments where quality is important but the use of the λ/10 versions cannot be justified. We stock precision λ/4 front surface mirrors coated for UV, visible, NIR and IR applications. For UV applications as small as 180nm our quality ¼ wave mirrors are covered with aluminum/ Mgf². For visible applications, our λ/4 front surface mirrors are coated with aluminum/SiO₂, and high reflective dielectric coated 99% mirror coating. For near infrared applications, we have a range of ¼ wave mirrors coated with dielectric 98% that works efficiently to YAG wavelength of 1064nm. Our range of λ/4 front surface mirrors for applications in NIR and FIR mirrors are covered with protected silver that performs well in the visible and up to 2000nm in the NIR, and our protected gold painted quality ¼ wave mirrors work from 750nm NIR into far infrared applications.
Guaranteed 1λ over 25mm front surface mirrors: Our range of 1λ over 25mm front surface mirrors are less expensive than a ¼ wave and 10th wave mirrors but still achieve reasonable results in demanding applications. These cost effective one wave mirrors are available in UV/ aluminum, enhanced aluminum and dielectric 99% coating for use in the visible. These one wave mirrors are typically are usually used in more demanding imaging applications where image quality is important. Our range of 1 wave front surface mirror (first surface mirrors) are selected for guaranteed flatness of 1 wave over 25mm aperture and individually tested to ensure they meet specification. They are manufactured from standard pre-coated sheet material. We stock this range from UV through to infra-red to fit most scientific instrumentation applications. Our pre-coated sheets of mirror substrates are shared as 145x100mm plates.
General purpose front surface mirrors: Our general-purpose grade of front surface plane mirrors are manufactured from standard coated sheet material. These general purpose grades of first surface mirrors are available with a multitude of coatings for an extensive range of the scientific instrument and lighting applications. Our stock range of front surface plane mirrors are made from high-quality float glass and are available in thicknesses of 1mm, 3mm, and 6mm thick as standard.

Stock general purpose grade mirrors can also be edges to smaller diameters and other shapes at short notice. These mirrors are stocked in large sheets so larger sizes up to 1000mm square are available for projector applications.

Our stock ranges of front surface / first surface mirrors are all available in a variety of coatings to meet most applications:
Enhanced aluminum 94%R for visible applications.
99.9% dielectric for laser use in visible applications.
UV aluminum for UV applications down to 180nm.
98.5% dielectric for laser use in the NIR applications.
Ion plated silver for NIR-2000nm applications.
Protected gold for 750nm to remote infra-red applications.
Contact our technical sales team for further advice about dielectric mirror design and assistance.