Hyperion Optics works on over 40+ custom precision assembly projects annually, from prototyping to mass production. Our lens assemblies range from microscope objective lenses, expanders, to SWIR/ MWIR/ LWIR lenses and more. With our reliable optical & mechanical design capabilities, we are confident to achieve challenging assembly jobs.
Our optical design services cover feasibility research, design specifications verification, preliminary design analysis, and prototyping to volume production.
We are comfortable with LRIP (Low-Ratio Initial Production) and Proof-of-Concept projects, which can be challenging for most optical companies given a low starting quantity. Our typical LRIP projects take about 1-2 weeks for preliminary design development and review, another 4-6 weeks for prototyping and assembly, and finally 1 week for final testing and inspection. Thus, we can help jump start your project and bring your design to life within a short prototyping cycle of 7-8 weeks. Given our experience and expertise in optical design and manufacturing, our design solution is highly DFM (Design for Manufacturability) -driven, thereby guaranteeing to meet actual production yield & feasibility in your go-to-market strategies.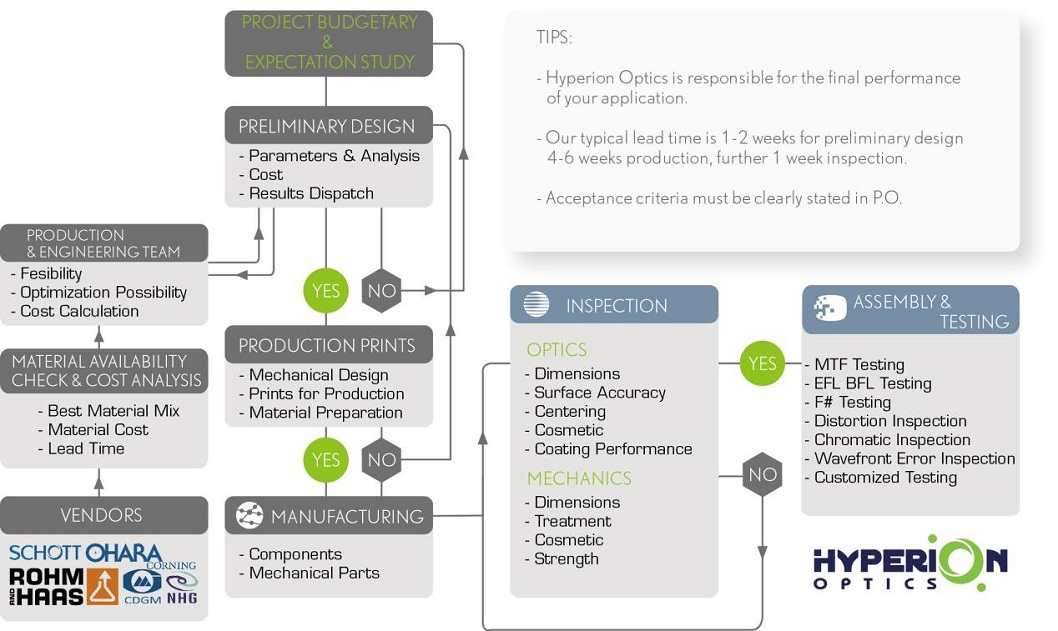 Standard Optical Design Flow Chart
Complementing our design services, Hyperion is a one-stop-shop optics provider with full capabilities of various custom optical components, from singlet lenses to complicated aspherical surfaces across the spectrum. This feature significantly increases the ease for your procurement process. Our own QA standards (ISO:9001 compliant) offers peace of mind to our customers who can count on us for dependable, high-quality delivery.
We are comfortable to fabricate systems involving DOE, aspherical surface with optical glasses such as Schott/ Ohara/ CDGM/ NHG to IR material such as Chalcogenide and ZnS. Please refer to our IR and high precision components manufacturing capability for more details.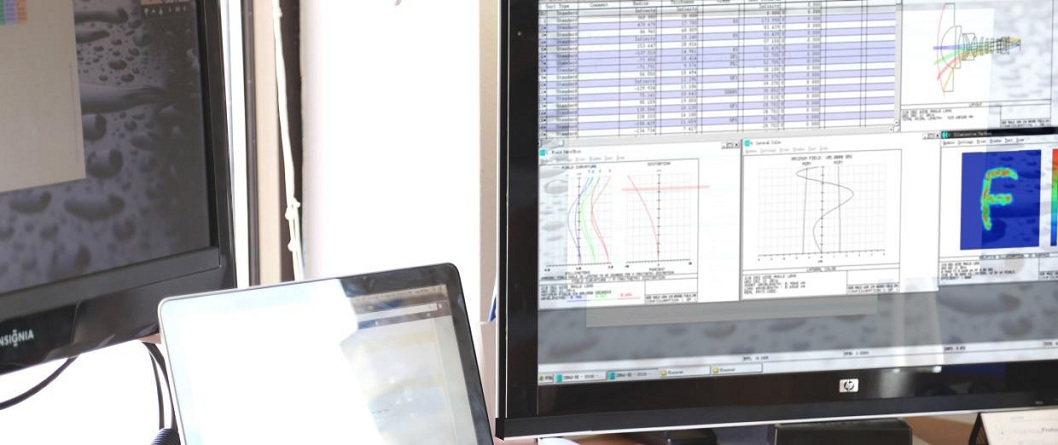 In our design process, our common practice includes sharing the most up-to-date glass catalog and refractive index data from CDGM and NHG with our customers. In some cases, we offer actual tested R index through VIS up to 2500 nm per different materials upon request. Our engineers are happy to research on the material feasibility and availability from our resources and databanks.
One unique advantage we offer in optical design is that you get to enjoy the full support from the Hyperion production team as we collaborate on a design project. By combining our optical design expertise with our manufacturing experience, we can perform manufacturing tolerance & cost analyses, feasibility testing, and specification definition with a much greater degree of accuracy. To-date, we have accumulated a portfolio of design cases whereby Hyperion helped create cost effective systems with optimal performance (without over-spec on the components), while securing a successful prototype in the first run.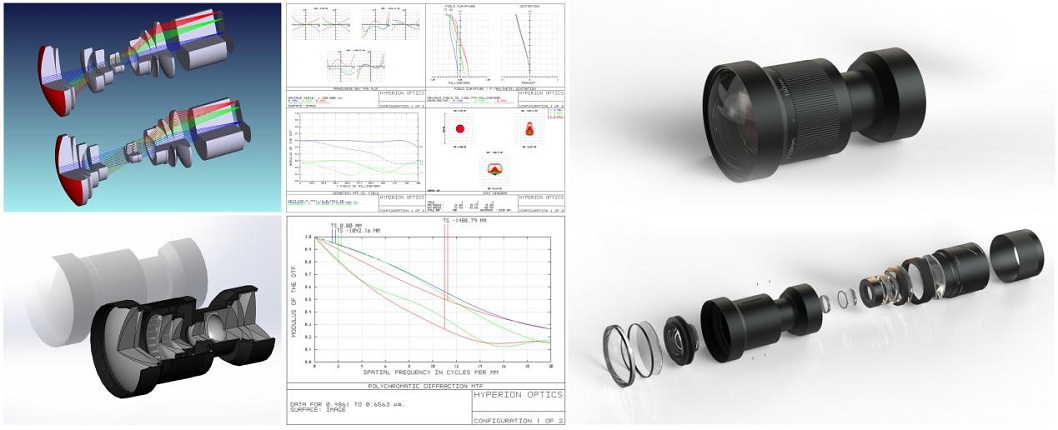 Hyperion Optics manufactures and assembles the components required in your optical system, enabling you to achieve your goals in fewer and more efficient steps. Our optical design and manufacturing teams constantly evaluate to arrive at the most cost-effective solution via creative thinking and optimization. With our comprehensive metrology in-house, Hyperion's one-stop-shop process can help guarantee precision outcomes & application performance. We are dedicated to offering you top-quality lens assembly at an optimal budget.
We serve clients who need a comprehensive service from design, optical engineering, to manufacturing & assembly. Our team of 15 optical and mechanical engineers conducts diligent research and study of the end application to insure that our final solution will work seamlessly in your system. Further design adjustment and optimization is also applicable based on actual usage and testing.
Hyperion's Premium Optical Design Package Offers:
Free Design Consultation: We offer free preliminary design and design review for your concept feasibility study, including MTF simulation and pragmatic suggestions.
Material Recommendation: With over one decade of working experience with major glass vendors, we always come up with the most cost-effective and reliable material mix for your lens assembly solution.
Parameters Analyses (upon special request):You have the best understanding of your system and application requirements. We happily provide additional simulations and analyses based on our customers' interests during the design stage.
Strict Quality Control: Hyperion assigns a special project-based QA team exclusively for lens design projects, which consists of the top inspectors and qualified engineers to oversee prototyping, assembly, all the way up till final inspection. This team is co-led directly by the Head of Engineering and the Head of QA.
Custom Inspection Requirement:We understand that each lens assembly has its own unique acceptance criteria. Hyperion Optics actively works with the customer to develop the most suitable inspection methods and invest in necessary procedures based on our current metrology setup.
Please browse our featured lens assemblies category to learn about what projects we can help you with. If you require a custom design, contact our technical sales team to start "Build Your Own Lens" process.